To continue with the recent growing-up-in-DC theme...

A recent barroom conversation led me to conclude that there is an image that every person growing up in the Washington area (no matter what age) identifies with. Sure enough, there are collective memories that happen on the national level; Space Shuttle explosion, the Contra invincibility code, dying of cholera. And then there are some more local recollections; Captain 20, the Washington Post's Superbowl XXII supplement w/iron-on Redskins' autographs, etc.

But I'm talking about a specific DC image. Consider this...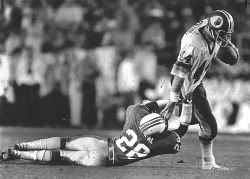 Diesel.

Problem is, this happened on the national stage and could be shared equally/unfortunately with Miami Dolphins fans. Suckers.

There's this...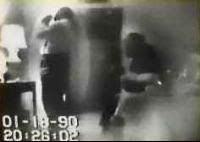 When visiting the Vista International Hotel ask for the GDBSMU special.

But my uncle from Iowa used to wear this on a t-shirt. It's No longer DC's.

There are plenty of others. These things that may have happened in Washington but are not unique to the District's borders. Therefore, I present to you the single iconic image that belongs to every former child of this city...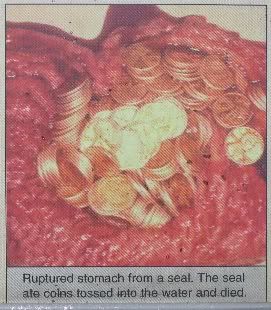 For those readers who have never visited the National Zoo, this picture adorn signs along the seal and sea lion exhibits (click here for the whole thing) and shows the effects of too much copper in a seals diet. A quick glance leads to me to believe that about $2.50 is the lethal dose.

Anyone who went to the zoo as a child knows exactly what this is. For some people I spoke to, who hadn't been to the zoo in years, it's their only memory. No matter how much exposure to television violence one, um, "digests" growing up, seeing a seal's necropsy* is still a somewhat unnerving sight. Everything is too red and shiny. It burns in your brain.

But the sign is obviously effective. Although a seal died in a few years back of "digestive problems," I believe it was unrelated to anyone tossing in their change after buying a Ling-ling cufflink set. Perhaps they should put up signs near the red pandas saying, "Give a hoot, don't put rat poison in my dinner."

There you have it. Enjoy the memory.

*the Governess is quick to point out that necropsy is the correct term, not autopsy. She thinks she's all learn-ed because she read a book that said an autopsy can only be performed on one's own species. Although, I can't prove from the photo that the surgery was not grey seal on grey seal.