After wrestling mightily (and so far unsuccessfully) with the installation of our new sink, faucet and garbage disposal I found myself covered in caulk/nasty drain gunk and 30 minutes late to meet JW and the D at the Rancid show. As to yesterday's question, I settled on dark jeans and generic grey as I hope to blend in with the folks crashing into each other in the swirly pit.
Driving up 14th I slowed to admire the wonderful advancements made to Thomas Circle since my last
complaint
. Even though I was still a few blocks form the Black Cat my mind went into parking spot mode and it's why I was staring a one particular stretch of 14th when I saw something unexpected. Even though the cars behind me were honking their displeasure at my slow confirmation speed, don't think I didn't stop to answer my own question: "Is that Linda Cropp going into the Dakota* Cowgirl?"
I made up my own parking spot and approached the eatery on foot. But in the brief time my back was turned my mystery woman had disappeared. If you've never been, the
Post
describes it as "catering mostly to the local gay demographic, this hip burger joint pulls in crowd that seeks hearty fare." They don't mention a guard dog, though, so I guessed that Foxy here was barking in support for her favorite mayoral candidate.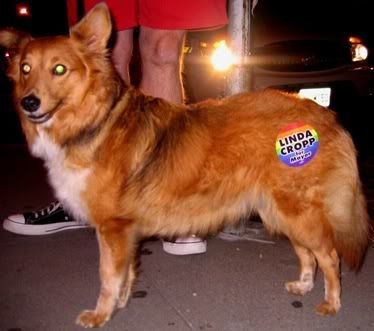 I struck up a conversation with the dog's very friendly owner (his name escapes me) who confirmed the he and some friends were escorting Cropp on a sober bar crawl throughout the neighborhood. They were targeting clientele similar to those who frequent the Cowgirl.
We spoke for a few more minutes before Cropp soon emerged with smiles and handshakes. My new friend introduced us and we spoke briefly about my disappointing voting ineligibility in the District. However, I did promise to point friends who reside in the city in her direction and having reached this acceptable agreement we parted ways. Cropp and her crew to Halo** (or some other such place I was underdressed for) and me to go bash skulls with kids wearing Avail t-shirts.
But more on that later.
*My mother's family hails from South Dakota and the state feature prominently in my family's history; names, decoration themes, an unhealthy buffalo fascination. Every time I pass the Dakota Cowgirl (nee Hamburger Mary's) I think of suggesting it as a fine dinner destination for my ultra-conservative ex-FBI uncle. You know, for fun.
**I could listen to this
site's
soundtrack all day!