Great.

Something I ate has just triggered my loopy heart to kick in with its extra beats. It's like a quick muscle spasm, which I wouldn't mind except it's not in my back or leg but IN MY FUCKING HEART! AAAARGGHH! STOP IT!
I took Monday off to have it checked out again, because the first test didn't show anything, and the doctors wanted to make sure there was nothing to worry about. The tests included a fun stress test and the funner echocardiogram.
The preparations for having the suction cup monitors attached included the delightful experience of having my chest hair shaved by a burly-bear male nurse. I had been forewarned and was hoping for some sort of humorous Steve Carell scene. Instead, I got some dude with a plastic razor and no prep. Just straight metal to skin, no cream, lotion or water. I'm not Justin Bateman is a boxing werewolf-Teen Wolf Too hairy, but it was still uncomfortable. (By the way, is there a protocol about eye contact as you lie on your back and silent man scrapes Bic across your chest.? His distracted tuneless humming was an added gratuity.) The monitors were the standard suction cup variety, but I found it odd that the nurse licked my skin before attaching each one, instead of the wetting the cup itself. But I'm a doctor of Nordic mythology, not medicine.
Next came the heart sonogram.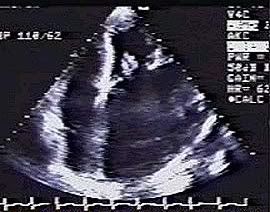 Turns out my heart is pregnant with love and high cholesterol.
I'm sure watching you baby in utero is a joyous event, but watching the operations of your heart in real-time is disturbing. It's incredibly small and fragile. After being diagnosed with extra or "ectopic" heartbeats, I figured I would rather have too many than not enough. But I started to gloom over the idea that my heart was allotted only a finite number of beats over its lifetime and I was using them up by drinking caffeine or taking cold medicine. This anatomical/philosophical dread returned as I watched it tick away on the screen.
But the stress test did not reveal any problems. They had me run the treadmill, all wired up, until my heart rate went up beyond 190 per minute. The man-nurse taunted me by regaling stories of other people who had run faster and at higher inclines. Screw you. But the real doctor was nice enough and it turns out we experienced a unique event; both of us saw the Cessna crash at Bishop O'Connell High School back in the 80's. (I got $10 for being part of the WJLA News Team, which was the going rate for tips at Channel 7, after I ran to a pay phone and called them. They didn't believe me at first but I think they were first on the scene.) When my heart rate hit its peak, I jumped off and got sonogrammed again as the beats subside.
The docs say there is nothing structurally wrong, but every once in a while I could get a little flub. It can be brought on by any number of things. I just have an ancillary lub in my lub-dub. They say it's not common but still not uncommon and I shouldn't worry. Lots of people have them. They were ever so comforting
I've pulled, sprained, strained and broken just about every part of my body and know over time it's going to wear down and things won't heal. But before this started, I had never worried about my heart. It just hung there, pumping away. The best of Arlington Hospital told me I have nothing to worry about, but each little flinch is still an unwanted shadow.