The Governess detests the Target at Potomac Yards in Alexandria. She spits at it when we drive by. The reason remains known only to her but perhaps it's the lack of a second entrance that is now standard among today's modern Targets. She fears that if a fire broke out she may be trapped among the burning racks of Isaac Mizrahi Kelly Pink Driving Women's Moccasins and Mossimo Black Wine Berry Silk Camisoles with Dazzling Necklines. The G. hates a firetrap.
Maybe the Target loathes itself as well.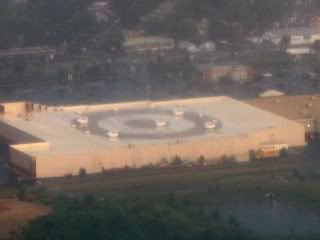 We sense Fate is being tempted. This is the Target that is a few hundred yards from the end of the National runways. But it seems pretty
common.
Before 9/11 it was painted a nice bright red but that was whitewashed over shortly afterwards. No sign on of it on
Google maps/Earth
but the cover up paint job is starting to fade.