I've got an idea. Let's take the most ridiculous exercise device ever to grace you grandparent's rec- room and make it popular again. But we'll need to give it a new name so people won't remember what it is. Something the kids will identify with. You know, something illsnotic.

Um, those bikes that have giant fans for front wheels? No, they blow around too much cat hair.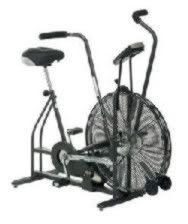 How about those metal exercise coils that you stretch across your chest? No, your younger brother will use it tie you up right before he lets the air out of your new bike tires and steals a pirate ship.




I got it! Mini-trampoline!

Damn.