Fun with the thesaurus: why use the words "give kudos" when you can just use "kudize" since it's the accepted verbiage according to my giant, 50-year-old dictionary.
Anyway, kudize the WPost on Sunday for bringing attention to a little known DC memorial in their
Road Trip
column in Section M. Duke Ellington's birthplace is the fourth stop on their
Swingin' Through the Music Capital
feature, located off New Hampshire between their Bayou and Crooked Beat Records stops. As the article mentions, there's not much in the alley to connect the jazzman to the building outside of the sign reading "Duke Ellington Building" and a wee plaque. Especially since his grandparent's house was razed decades ago and an office has been standing in it's place for years.
It's also tough to drive to – down several one-way streets – and most of the more recognizable landmarks nearby have recently been torn down. (It was behind Blackie's House of Beef.) I only found it a couple years ago after I was looking for a short-cut to an ultimate frisbee pick-up game and noticed the plaque. Ward Place, the street it's on, is really more of an alley than a road but it's got its own street sign off 22nd if you're looking to visit.
But you don't really need to. Here's the building…
and the plaque…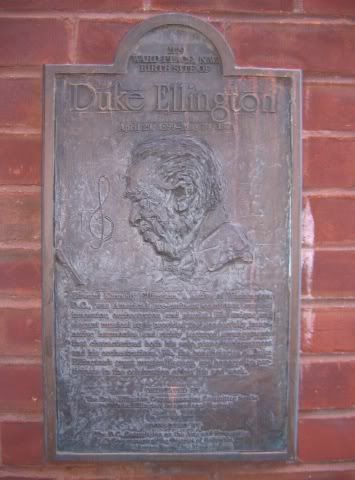 If you're into stuff like this, a better use of your time would be to fill your belly with chili-cheese fries at Ben's and then head on down 13th Street. As a kid, Ellington lived in the house at 1805 for four years and then across the street at 1816 for three more. There are no plaques or anything (and I think people still live there) but you get a better sense of Duke's life there than you would just staring at an office building.
Or better yet, come April you can get a feel for the whole neighborhood by attaching yourself to
these guys
. It's a pretty great tour.