Last week's re-emergence of John Bolton led me to realize I hadn't updated the
"mustachioed" counter
. If you will recall, my fondness of the word led to a desire to track its popularity in Washington over the last 25 years. Happily, the results of last July indicated that the nation also shared in my affection. While the mustache itself has lost its widespread appeal over the last two decades, its use as an adjective showed a steadily climb. It seems that as the Magnum PI-look moved from required to novelty, the word gained a sort of tongue-in-cheek novelty.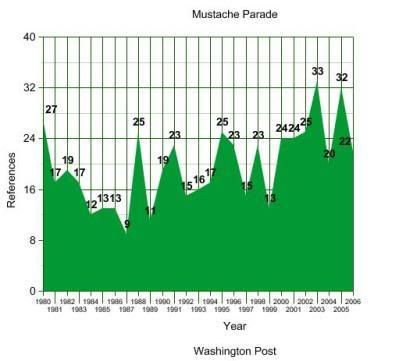 The updated research for the remainder of 2006 yields some mixed results. "Mustachioed" appeared in the Post 22 times, a significant drop from 2005's near-record high of 32. However, the overall trend continues to rise. The mean average is somewhere around 19 and anything above 20 should be considered an improvement.
However, it is still the second lowest score in this decade so I'm a little disappointed. Going into the second half of 2006, I fully expected the popularity of the motion picture Borat to propel the occurrences off the chart. For some reason, this never materialized and there was just one single connection. (I wouldn't be surprised if there was a "No Mustachioed" edict issued by the Post editors to spite me.) It was only the combined mega-anti-American dynamo of Daniel Ortega/Saddam Hussein that pushed the results to a barely respectable 22. In fact, the only reason there wasn't a complete washout was due to a flurry of the word's use in November - 8 isolated, unrelated and unexplainable times. Not a single use after Thanksgiving. Not even for Saddam's hanging. Though I guess he was sporting a beard at the time.
So far things do not look good for 2007 either. As of today, there hasn't been a singled printed instance in the Washington Post. I'm afraid the heady days of multiply mustachioed months are behind us.