If my math is correct, yesterday was the District's first Mardi Gras celebration in many a year without a spiritual and lubricated center. The last fake Hurricane was mixed, the last tit was flashed, the last drink was watered down and the last set of beads were tossed over the head of a bleary-eyed, dance floor moistened coed on April 31st of last year when Lulu's shut its doors for good. And I mean really good because if you drive by now all you'll see is stilts and dirt and those itty-bitty bulldozers.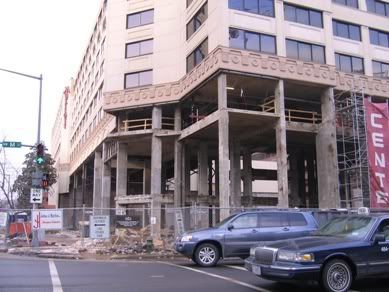 If you somehow escaped Lulu's vortex, you were either never a young 20-something year-old living in DC or you were way cooler than my raggedy-assed friends. I went once for someone's birthday but got so blown beforehand that I made the limo pull over so I could boot on the shoulder of 66. By the time I got there, my heart rate was somewhere around 900 bpm and the only parts I remember are the bathroom and, I think, a Robbie Williams song.
But other people loved it, as evident by the lines on Mardi Gras/St Paddy's and the crowds during the rest of the year. And it was the only bar in the city, as far as I know, named after an actual Mardi Gras queen – Lulu Auger was the wife of Ulysses "Blackie" Auger, the guy who owned Blackie's steak mecca, and was the Queen in 1962. She even wrote a
book about it
.
There was something about that detail that made the bar almost endearing. Almost. It wasn't a name concocted by some marketing firm to appeal to the Joe Francis-types. It drew those people and tons of Marines, for some reason, naturally. I didn't actively scorn it, like I do with some other clubs, it was just there and we happily ignored each other.
And now it's gone and soon to be forgotten* and a Walgreen's is being built in its place. But I felt things couldn't go out like that. Late yesterday afternoon, I hiked over and hung some beads and a sign. Sure, it's a cheap tribute. But it's still the only tribute the old girl is getting.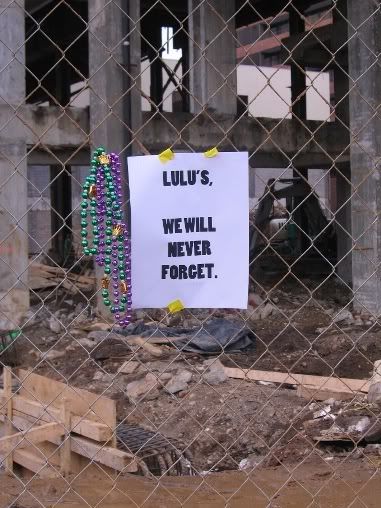 * While I was hanging the sign, which took longer then it should have, several people stopped and asked what I was doing and if I had any connection to the bar. One couple didn't know the place had been knocked down and had taken the Metro into town so they could party. They asked me if I knew if it had reopened somewhere else or if there was another good place to catch some beads around there. I said I didn't know and hustled off. Clearly, this city still has an appetite for a New Orleans-styled party central.