Two completely indescribable things I found in my car last night:
1.
a cassette of "Upstairs at Erics"
2.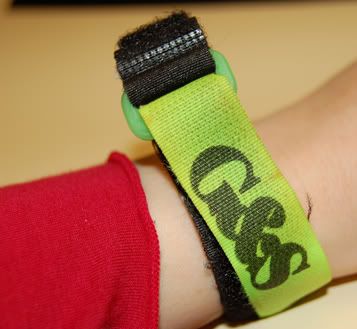 I bought this with allowance money at a neon-signed "surf shop" located in Fair Oaks Mall in the 80s and wee early 90s, I think it had "Sun" in the name. Nothing says surf like the DC suburbs.
I purchased this particular band because it had a flourescent CLEAR buckle, which got me an "in" to talk Contra codes with a dude named Ian in my class. Clear buckles - where it is/was at.
Anyways, I wore it to work today. It hasn't really aged well, under the seat of my car, but I'm mostly amazed at it's existence. If it fits my weakling wrists like this NOW, I can only imagine it must have looked like a bangle or something on 6th grade me.
My new style will be called "surf trend." White cords, puka shells, Op. Next reincarnation: slap bracelets, grannie boots, heavily appliqued & embroidered Notre Dame sweatshirts. We'll just start at a certain Governess Fashion Point In Time, and work from there.
* * *
You should really be
watching these,
by the way.