Damn. The radiator's busted, the floor's rotted and GP's shit got stolen. What happened? At least we have out health.
Or least I do. The G's just a sweaty, feverish, covers-stealing turbine.
Let's get back to what makes this site so damn average.
-------------
See that dead horse over there? Here's a blackjack. Let's go beat it.
Where: office. When: this morning.
50 year old female acquaintance: You're young. What's that jeans commercial where the girl dances and there is junk in the trunk?
Nabob:
Jesus
. I think it's actually a phone commercial. The song is called "My Humps." It's horrible.
Biddy: Whatever it's for, I can't get it out of my head. I'm having my kitchen redone so it's all dusty and a mess. I've asked the dog several times "What are we going to do with all this junk in our trunk?"
N: That's awful.
Biddy: It's not that bad. It's better than that "Pimp" song I kept singing on Monday from the Oscars.
N: Not really, no. It's awful.
(After showing her the lyrics)
Biddy: Oh, those are bad. Do they play that on the radio?
N: You bet. And I'm sure a Texas cheerleading squad is working it into their routine as we speak.
---------------
You know you've gone too far when Hal Sparks turns his back on you.
Yeeeaah! VH1 loves something new this week! Toys! I like toys too! But Frisbee is only #45? That's rubbish. Top 3 at least. Nothing else on the list has either given me a broken nose, knocked out two teeth or given me a concussion. Only Frisbee can claim that. It's not a "fun" toy unless someone gets triaged. And where's the Nerf crotch bat?
And speaking of toys.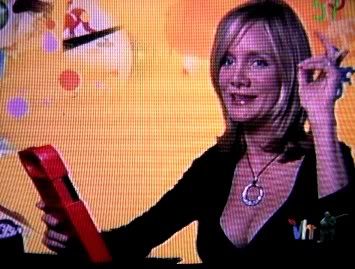 Beth Littleford, that's some super-plunging neckline you got going on. I've got no problem letting the world know that you are a very attractive and hilarious woman.
Cause you are
. But you just had a kid 7 months ago, right? Showing the ladies off in all their utilitarian glory makes me a tad uncomfortable. The line between sexy and mommy is blurry and I'm a small, puerile man. Leave me be.
--------------
Beating the G. to the
Hold Steady
punch – You can almost hear the
Craig Finn
in the intro. Oh, that is Craig Finn. Just like
Soul Asylum and the Replacements
, those
MN cats
have gotta stick together.