I wouldn't say we "tricked" my cousin and her kids into going to Fort Reno last night. But I don't now what else to call it.
The little ones enjoyed themselves. They saw a lady with red hair, a boy with a mohawk and met a guy with dreadlocks. And later when we were drawing pictures of what the monsters in Monster Inc. were afraid of he drew a little boy with a mohawk. Also, a beak. I was so proud.
It was also baby's first show with a "message." And don't tell dad but there may have been some hip-hop. And indictments against how he makes his living and the things he stands for and our expensive coloring book habits. But he wasn't around, so we put our hands in the air and waved them like we just didn't care we had swim lessons in the morning.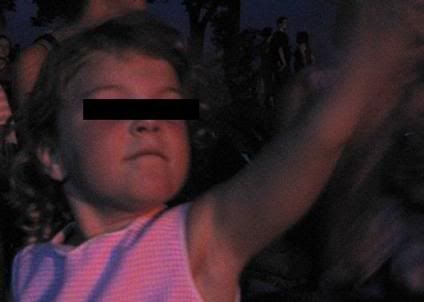 Yeah, she's three.