First off, today's Post Express...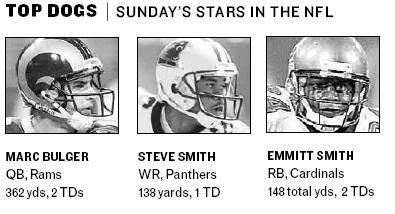 Wow! Emmitt Smith, 148 yards and 2 scores. Pretty good for a retiree watching the games from his home in suburban Dallas. Should have drafted him over Cadillac Williams.

The G. spent Sunday having a ball attending lunches, picnics, parties, box socials, brannigans and practice, leaving me home with the kids and a huge pile 'o' laundry. But that's cool because it's opening day of the NFL. And when I got back from my 9pm soccer game, at least she would have folded the sheets and gathered the trash, like she was asked. Oh, wait.
Thoughts:

Fox Football coverage - You stink. And not at the big things like hosts and announcers, because they always stink. I was disappointed in the graphics and sound effect, especially the bumpers between football and commercials. They're boring and old. Three years ago you had the giant robot factory with everything spinning, whizzing and sparks flying. They were annoying but creative. Two years ago you had cityscape 3D models and you achieved background graphics perfection. They were CG but had a hand-drawn muted blue Basin City feel to them. They were probably ignored by the masses but appreciated by those who noticed.

This year had some average slow moving dark blue slates. Blues and blacks, with some yellows and whites as contrast. Some designer knows the basics. Yawn.

The pregame show also had audio bumpers that were designed to separate differing segments. I'm sure they were meant to be noticeable and dynamic, so you would know that Howie Long had finished talking about Champ Bailey's shoulder and was moving on to Green Bays' woefulness. It did not seem appropriate, though, as James Brown segued from the importance of the season starting on 9/11 to how the New Orleans Saints are the most courageous football team of all time.

I did see one Fox NFL promo, though, that actually had character. It had a football being unlaced with creepy vine-like tentacles lowering small monitors. Game highlights were on each of the screens. It was a mix between Invasion of the Body Snatchers ( the Donald Sutherland one) - War of the Worlds - and Stephen Gammell* artwork. It was a little unsettling. And though it was derivitive, it was at least creative. Which is probably why Fox didn't air it much during the 9 hours of football I watched. The boring stuff was everywhere.

Commercials - If the Superbowl of football is the Superbowl of commercials, then surely opening day is also, uh, good. The winner: the FedEx spots with the fully padded players providing advice on shipping. Specifically, Joe Montana trying to shuck and jive in an airport terminal on his old man knees.

Marc Summers - is a bastard. Whatever show that guy does on the Food Network did a piece of fish tacos. They looked so good. I spent all of Skin's-Bears halftime and most of the third quarter driving around NOVA looking for a place that sold them. No dice. If anyone wants to join me at lunch today, I'll be on a fish taco prowl throughout DC.

Laundry - Eight loads. I had to re-do two loads because I found wet dogs lying in them before they were folded.

Dogs - The G's new pet has a thing for blondes. It plays happily with any other animal at the dog park but as soon as a Golden Retriever or Golden Lab show up, it's wee brain narrows into dry-hump mode. A delightful new discovery. I think it's his subconscious trying to re-establish dominance over the G. and her yellow locks.
In conclusion, Javon Walker's knees are going to screw me. The end.

*While the Scary Story franchise was a good read as a kid, Gammell's painting scared me to no end. I wouldn't leave them on the bookshelf out of fear that some of those drawings would come to life in my room.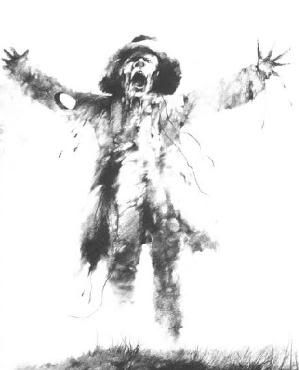 If this is one about the scarecrow that comes to life and dries the skin of a shepard on his roof, well then sir, prepare to see me wet myself.