Since we are on the topic of the black dog...
This is the same animal that disrupted my football watching when it climbed into the attic and FELL THROUGH THE FUCKING CEILING!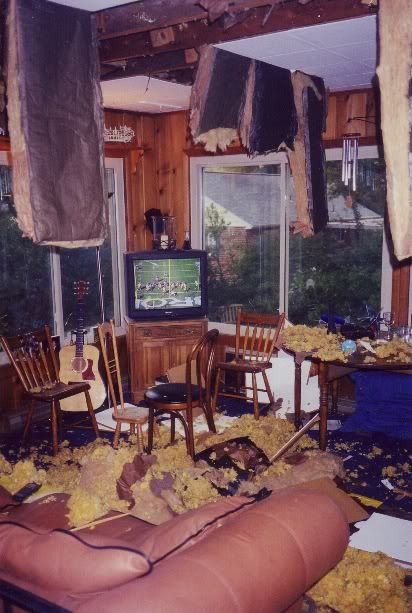 Brown dog is cute but of average dog intelligence. Black dog is occasionally cute but is too damn smart for his own damn good. The black dog's owners have to keep hydrogen peroxide on hand at all times in case it eats something it shouldn't. Like 3 pounds of bottle rockets. Yes, 3 pounds. Or an entire bag of Snicker's Halloween candy, wrappers and all. Or two whole loaves of freshly baked bread.

Other aggressions:
Learned to climb chain linked fences. His owner's had to effectively build a batting cage in the backyard to keep him in.
He hates the mailman so much that he destroys the mail at soon as come in the house. His owners had to buy a new door because his lunges toward the mailman knocked it out of its frame. If you are holding the mail, he will destroy your hand. He barks as soon as the mailman enters the neighborhood and doesn't stop until he's left again. He has tried to attack the mailman in the mail truck and has actually taken a bite out of its bumper.
If you yell at him for misbehaving, he will walk to the other side of the room, make eye contact and shit on the floor. Solely out of spite.
After being locked into a bedroom for causing trouble one night, he managed to open a screen door leading to a second story deck, jump onto the roof of the house, walk overtop the building to the window of another bedroom and secure re-entry by scratching until a shocked Duchess let him back in.
Countless other Mephistophelian acts.
If there is an aspiring dog shrink who needs a patient for their thesis, I've got a good patient.