I was born a serpent-handler and, God willing, I will die a serpent handler. So I had to track down several Catholics to get the story of what you are and are not permitted to consume during Lent. The answers were varied:
no restrictions at all
no meat of Fridays
no meat ever
not sure, but did you know that the whole Catholic thing about fish on Fridays was cooked up the Pope to subsidize the Italian fishing industry.
In conclusion, the Catholics I know have no idea what happens between the day you get that ash on your face and Easter, except they have to give up cursing and maybe chocolate or at least lay off the sauce for 40 days. Fortunately, my papalist friends have Taco Bell to aid them in their spiritual crusades.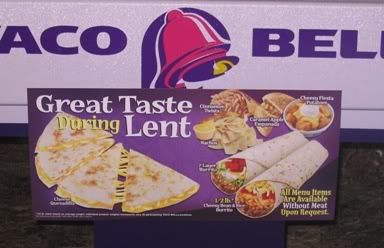 Joe Ratzinger loves Hisself some Caramel Apple Empanadas.