Update: They don't change much.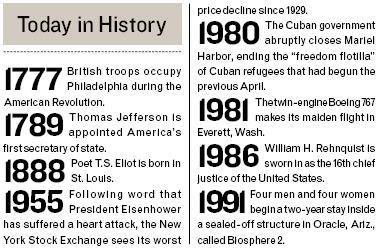 Added a little something about Jefferson, Justice Rehnquist* and Boeing. Dropped Santayana. Kept TS Elliott, Philly, Cuba and Biosphere. In fact, they used the exact same language describing the
Stephen Baldwin: Beyond BioDome
. The only difference seems to be that a new copy editor came in and demanded that they not use the past tense. I'm not srue if one is
more
right but as long as it's consistent throughout I think they can both work.
I do have one issue though. True Jefferson was sworn in on this day but so were several other members of Washington's first cabinet (ahem, Post Master General Samuel Osgood) and the first Chief Justice, John Jay. I don't think it's fair that only TJ warrants a mention. And why bring up Rehnquist, who was the 16th, and not Jay, who was #1? Plus, he had the shortest last name of any CJ, beating out fat ol' Taft by one letter. Way to go, Jay!
Here's what I think you really need to know about
September 26
.
Died: Robert Plamer - 2003
Born: Jack LaLanne – 1914
Debut: Bob Dylan to the public on stage -1961
Brady Bunch on ABC - 1969
Abbey Road (album not studio) - 1969
And, of course, Chief Justice Frankenberry sworn in.

Toot toot!
*Rehnquist spoke at my high school graduation. It resulted in my first negative run-in with the US Marshall Service. His daughter also lived next-door to a friend of mine and we threw up in her backyard. For the sake of documentation and this post let's say it happened on this day, September 26, 1995. Barf!