There are certain codes in our homeowners' association "constitution" that prohibit any excessive Halloween decoration beyond single pumpkins of a tasteful size. And these rules are strictly enforced by an itinerant band of mean spirited squirrels who have kidnapped two of our 50 cent baby pumpkins* and are in the process of devouring our un-carved regulation sized one. It will take all of the Governess's college level arts and crafts skills to yield anything closely resembling a Jack 'O' Lantern. Although the irregular, squirrel-chewed pockmarks would, perhaps, make a convincing Edward James Olmos.
Such restrictions did not apply to the houses we drove by yesterday when we were killing the extra hour before our brunch because of my inability to read the Evite. There were giant pumpkins, inflatable gargoyles, an Egypt's worth of cotton fake spider webs and the damned coolest, to-scale-but-grey-Battle-Cat, attack puma ever carved from a Suburban-size piece of Styrofoam. However, in terms of general Halloween creativity I've seen little in the Commonwealth that compares to this getup on Broad Street in Falls Church: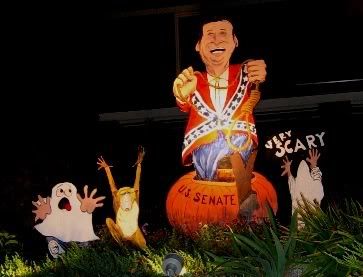 Monkey's a nice touch.
Update!
In between writing this entry two hours ago and actually posting it I found myself Crystal City and passed Jim Webb on the street. I wasn't sure if it was him until it was too late so I was unable to 1) ask him if he was still fighting and 2) get his reaction to this photo which I had with me on my camera. It is my most condemnable failing ever as a web logger.
*A third baby "pumpkin" was revealed to be a regular ol' gourd after last weeks rain washed off all the orange paint. Don't buy Safeway baby pumpkins.