A few months ago found me
busting
the District's chops over the delays and overrun costs of the construction at Thomas Circle. Man, was I complain-y. But that was in the distant past and recent trips up 14th show that things seem to have progressed as re-scheduled. Today, Mike Grass was kind enough to let me know that the re-dedicating of the place was scheduled for lunchtime.
Hey, I eat lunch! Let's go check it out.
Now, when I worked in London I attended traffic circle openings all the time so I can safely report this one was pretty standard. And though I arrived late to the steps of the National City Christian Church I was still in time for the praying.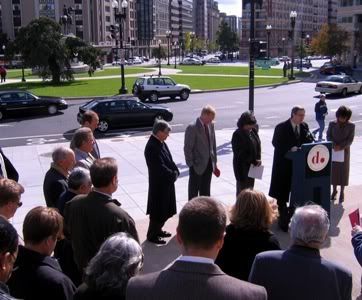 God bless this mess.
Carol Schwartz was in attendance with other Thomas Circle area bigwigs and Park Service muckitymucks. There was sunshine and kind words and handshakes and smiles and two if the biggest St Bernard's I have ever seen.
However, there was nothing to set it apart from your normal church picnic-style traffic circle opening. Not a single balloon or ribbon cuttings or General Thomas impersonator that I hear are all the rage. So after about 30 seconds of St. Bernard belly scratching I wandered away to go look at the city's handiwork.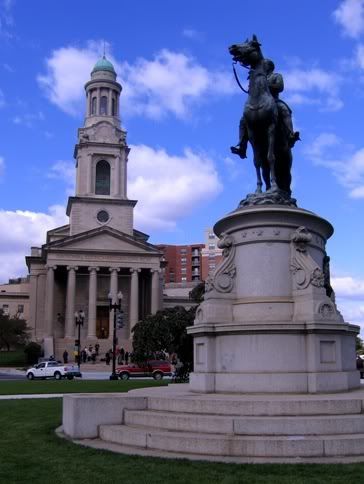 Verdict? It looks fine. The sod is freshly planted so it's still green. That one weird looking tree managed to survive the construction and the
much-ballyhooed
new curbs and gutters are as wondrous as L'Enfant intended. The redesigned sidewalks also mean you can walk right up to the statue of Thomas and discover for yourself that the General rode a manic and soulless horse.
NNNEEEIIIGGHH!!!!
Now, as for the traffic aspects of this traffic circle I do have some complaints. The few times I have tried to travel up 14th I've still had a difficult time getting north. The G insists that if I stay in one lane I'll be fine but I don't trust the layout. There always seems to be someone trying to merge into you. There's also the fact that a real traffic circle probably doesn't need traffic lights and they just lead to more confusion. Also, while walking around I noticed the crosswalk counter said one of the red lights directing traffic from east to west was set for an infuriating 71 seconds. That's a lot of time idling and staring at the back-end of a demon horse.
Overall, this example of District traffic construction seems to be late but successful and the issues I have will probably shake themselves out. But don't get me started about what they've done over at the Lincoln Memorial because that's complete stoplight disaster.