So you all may have yr slutty pirates and slutty Home Depot workers and drunk people in french fry costumes (that happened to me once, assault via Happy Meal, let's not talk about it) n whatnot, but
we
had the Wrens and they brought it. BROUGHT it. So grand. One thing: when did a bunch of 50-year olds from Jersey start attracting the x-handed tweenies? One kind even had pom poms with him (unrelated to any particular costume.) Who cares, it was fun to watch them all onstage, tapping away with the complimentary drumsticks, wearing their +/- merch, drunk on beer and the stage.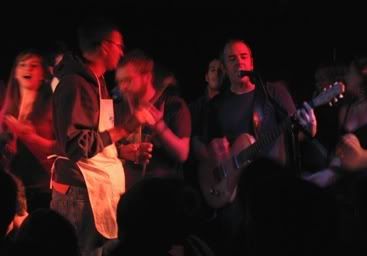 Anyone over 21, I've decided, doesn't have the knees to make that climb upward. Drunk dudes asked me if I was ScarJo for Halloween, pretty much officially making my night, in case you haven't seen that
Allure
spread yet. Who cares how airbrushed that shit is. Which it is. By the way. Anyways, thanks, dudes. ALSO! There was a girl there in a space vixen outfit that I want, so next year keep an eye out, I'll be the one with a ray gun and a helmet. Some would say not terribly different from any other Friday but whatever. Oh, and go-go boots. Silver.
The Wrens people, they are stupendous.
What else. Friday night I saw the best Hall and Oates impersonators ever do "Private Eye" onstage @ DC9, the LDP was small thanks to the Dam Festival raucusing it up on H St but whatever, it was Hall and Oates and Oates had the moves down - I assume lots of practicing before the mirror was needed. Speechless. Yesterday we slept all day. Today we did Halloween brunch and the Halloween parade, which is awesome and I highly recommend should you live in Del Ray.
The Nabob couldnt remember any scene where a lion piloted an X-Wing but he's only seen Star Wars once.
The Nabob was able to wear his costume (older brother "Bran" from
The Goonies
, complete with shorts-over-sweats perfection. No details spared. It was spot-on) so that made him happy.
Right now, the N is making chili and I am sneaking tastes. I accidentally rubbed my eye after touching a jalapeno. Not good. The dog has drool strings that are elaborate as spider webs from all the precious meat smells. I ate four Butterfinger minis for breakfast. Oh, also yesterday, I made vegetarian lasagna. It's fall, officially, it's about food. And rock.