ENERGIZE:
Hi. Guess what happens when you google
"Von Dutch Energy Drink?"
Yeah. I know.
* * *
ABOUT TO NERD OUT VIOLENTLY ON YR SHOES RE: BLOGS/SPOILED LIB. TWAT/HUNTING SEASON:
Okay, so, if you actually have a blog vs. just spending your workdays reading blogs - has there ever been a time where you were stuck without a camera or word or anything to describe the spectacle of what you were experiencing in real life? But you felt you needed to share?
My example would probably be
the
Cabela's retail store
in Owatonna, Minnesota. I just don't know how you blog about something like this, yet it's great source material.
"I think you should start the story by telling everyone how we were closing in on Mnpls before I decided we just HAD to turn around; doubleback to take our retail chances/soak in the splendor of it all? Because you were so annoyed by that and thought we were going to miss our flight." – The N.
Cabela's is brain-bending. There really is no story I have to related about our Cabela's experience, really, except for the fact that we visited once, and the fact that yesterday afternoon I discovered that Cabela's has an online virtual tour/photo gallery for the Owatonna store. The Moosonee post must have triggered something.
Cabela's encompasses, in one giant Lincoln Log building:
- Guns, lots of
- Fake mountains being climbed by stuffed Rams
- An aquarium with ugly eels
- Two restaurants, one with linens
- Lots of bronzey sculptures
- Camouflage for any environment (except for "Suburban Mall Camoflauge", which if I were to design a camouflage pattern, it would be my claim to camo-fame [blinking neon and Dockers- khaki])
- Antler coat racks, lots of
- Misproportioned exhibits (tiny trees/buildings, large figures)
- Down, in many forms
Courtesy their webpage: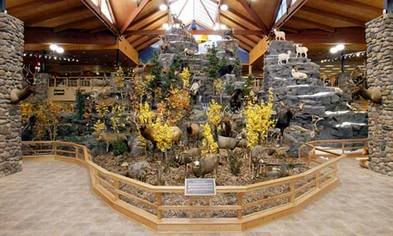 Welcome to Cabelas, home of indoor mountains/plaster of paris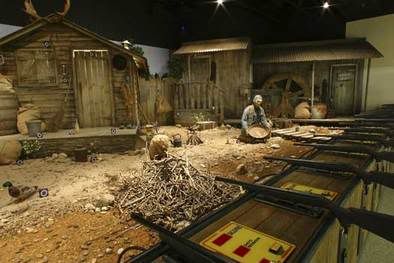 Diorama cha cha cha.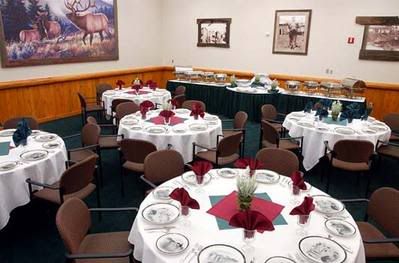 Yum/Elk buffet
Oh but wait, there's more. One more time, Cabela's website, and with feeling:
Cabela's is asking for your help in compiling a collection of taxidermy mounts, memorabilia, and antique hunting, fishing, camping, and boating equipment. This will help us to celebrate and honor our nation's outdoor heritage. These items, to include vintage books, photographs, art, magazines, trophy mounts, fishing tackle, firearms and archery equipment will be enshrined at Cabela's world-famous retail stores. It's a great way to participate in a unique historical commemoration while preserving your collectibles and sharing them with generations to come. If you have any items you would like to donate, please send a description and, if possible, photos. If you have any items you would like to sell, prices and photos must be submitted.
Get on that shit already! Help Cabela's save the modern diorama! Cabela's begs of you! Esp. vintage books and firearms, neither of which are easy to get rid of at Salvation Army.
(
PS:
Via
IL:
and only my favorite song, like ever.
Weird, I know.