I'll be leaving the other three-quarter of the site to report on Christmas and how various family members ruined it.* While the celebration of the Lord's birth was certainly a fine and engorged day, it's the Eve that held my attention.
According to league historians, I appeared in the 14th Xmas Eve bowl and can report another injury free year. (Though I'm still nursing a sore groin due to poor planning. It was discovered minutes before kickoff that I had brought two left cleats and had to play with a tennis shoe on the right. It made me easier to defend, as I could only cut in one direction and bit it several times on the icy field. I was also regulated to kickoff duty in honor of two-shoed kickers everywhere) In the end, one team won and we all limped home to our wives and basted turkeys.
This was all just a prelude to the main event. I grabbed the dog, (still half cleated) and hobbled down to Gravely Point to watch the
water skiing Santa
. Unfortunaetly, we had the wrong Potomac beach park and had to list down a few 1000 yards to join the excited crowds at Lady Bird Johnson Park to witness this wondrous (going on its first year) tradition.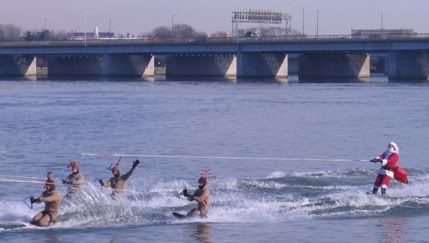 The children love Santa and his four wake boarding reindeer.
But I found the real hero of the day to be the jet skiing Grinch.
Most of the kids around me (I may have been the only adult without children unless the dog counts) loved the Grinch and his antics. He would spin around and do all those crazy trick that made Waterworld and that Jessica Alba/sunken treasure movie so boss.
But his greatest feat was his endless harassment of the Butterstick boat.
You get him Grinch! Splash that filthy panda! It's what the people want.
*This includes the 30 minutes the Duchess and I spent explaining to my grandfather how his new digital camera turns on. He thanked me by ridiculing my rather conservative haircut while drinking scotch out of a mason jar