I hadn't even considered it until
Neal Augenstein
or whoever at WTOP kept breathlessly announcing that there were day-of tickets at the panda house and ONLY ONE PERSON WAS IN LINE CAN YOU BELIEVE IT? ONE PERSON! Could
Dimitri Sotis be right? Can I just wander up?
I was going to be in Cleveland Park anyways today… extended lunch … a warm coat …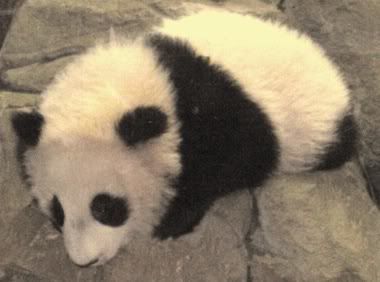 See, that's not fair...
License to

awwww....
I'm not generally known for being effervescent or gushy or to prattle on about things, but that little Panda Express mascot is world class cute. Grinchy hearts grew three times all around me when he tried to climb that rock and tumbled off. I'll leave it to someone with a better grasp of creative writing adjectives to describe how adorable he was, but geeezz! Look!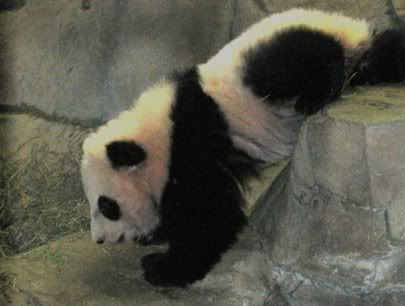 Mr. Fuzzybritches wasn't even my favorite part, though. For that, Pyggy in da Blank proudly presents the
Free Swag of the Tai Shan Premiere
.
Tai Shan Fans!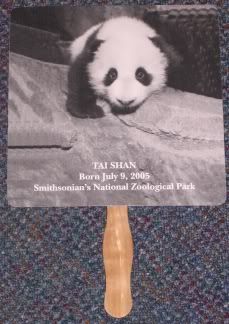 I didn't really understand why they needed to hand out fans since it was in the mid-30's. There were some exicted kids there, but I think Hecht's overestimated the number of people who were going to catch the vapors.
Vinyl Recording of the Tai Shan Shuffle!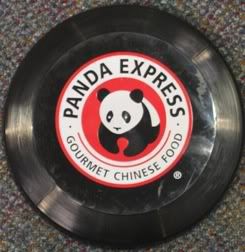 Actually, it's just a Frisbee brought to you by these friendly people at the Panda Express booth.
They also handed out plastic Chinese food containers. As appreciator of fine flying discs I have to say, for a promotional cheap Frisbee this thing flicks pretty well. Weighing in at about 120 grams it's well short of the standard of 175 for an Ultimate disc but still serves well when backhanding a coworker in the head on the street. (Why does Word need to auto-capitalize the word Frisbee? Is there any corner of this world that Whamo doesn't' extend their tentacled lawyers and copyright lawsuits?)
Delicious Tai Shan Chocolate Dipped Macaroons!
Not so delicious for us coconut pastry haters but the taxi driver who drove me home from the zoo said the package I gave him was top drawer. He said the real panda bits made it extra tasty. Well played, Whole Foods. If I get the urge to hang out with 38 year old Europeans and their Tintin loving kids, you're now first on my list.
Other junk included hyper-sweet Panda Creams (now with cavity inducing goodness) and some sort of baby panda sized ruler, which I'd say is about as long as a stick of butter.
And notice that I haven't
endorsed
any nickname for this thing. But the zoo seems to be pushing this…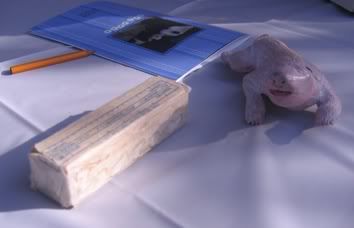 Finally, there was Tian Tian, chilling like I hope to chill when my first child goes on public display.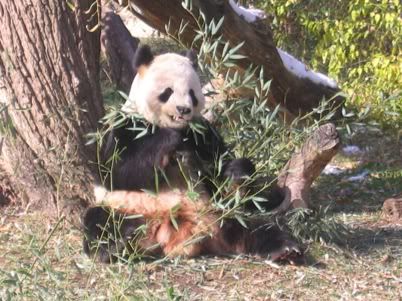 Except I'll be in hospital cafeteria with giant amounts of tapioca in my lap instead of bamboo.