1.
Jessica Hopper
, who I have an unabashed womancrush on, is coming to town July 21st. Anyone who wants to join me for an evening of reading and guaranteed radness (the Nabob: probably little-no interest, so I am looking for people to join me), please email. It's at
Infoshop
, Shaw-ish. Hit It or Quit It zines and comic books on sale onsite. If you miss it, you can always see the Baltimore show.
Tour dates & location:
AL BURIAN / JESSICA HOPPER : SUMMER READING 2005
(all readings except 7/14 are ALL AGES EVENTS, and all events are sliding scale admission)
July 14th: Chicago, IL- BANANA KING ZINE presents Rock N' Read fundraiser @ The Empty Bottle $10/21 w/ Functional Black outs. Reading at 11:15, free banana w/ paid admission.
July 16th: Pittsburgh, PA @ ModernFormations Gallery (4919 Penn Ave) 7:30 pm $3-5
July 17th: Philly, PA @ Mollys Books
July 18th: NYC, NY - Bluestockings Radical Books , 172 Allen , 7 pm.
July 19th: Providence, RI @ Dirt Palace Feminist Art Space w/ Julianne Shepherd - 7:30 pm
July 20th: Easthampton, MA - Flywheel Community Arts - 8 pm (2 Holyoke St)
w/ Julianne Shepherd and Sara Jaffe
July 21st: DC @ Infoshop (1426 9th st NW) - 7pm - Jeff Ott headlines
July 22nd: Baltimore, MD @ Charm City Arts Space - 8 pm
July 24th: Chapel Hill, NC @ Co-Op House
July 25th: Louisville, KY @ BRICK Community Center - 7pm
For your added viewing pleasure, this is what I'd look like with Jessica Hopper's brunette haircut and biggol earrings. Also, if I had an evil goatee-handlebar combination. And an eyepatch.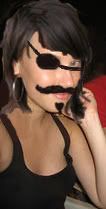 2.
For your reading pleasure, he are some stories - one about a hermaphroditic crab, and the other 2 about a 600+ lb. catfish.
http://news.nationalgeographic.com/news/2005/06/
0616_050616_gender_crab.html
http://www.scienceblog.com/cms/node/8320
http://news.nationalgeographic.com/news/2005/06/
0629_050629_giantcatfish.html