Travis Morrison, Pagoda, Federal City Five:
Highly enjoyable. Not too buggy, not too hot, sound was pretty decent, lots of friendly people, and a swarm of teens from Bel Air, MD the likes I've never seen before. Pagoda was a nice surprise; mellow and something I could see myself liking, I think. We missed most of Fed City 5, unfort. Travis had just broken his thumb (again), so that was a low point. The Hellfighters played almost all new stuff, which (to me, anyways) sound sway more like the Plan than his solo stuff did. I think they also covered a Survivor song, but I'm not sure about that, because it smells like pizza in my office right now, so it's hard to concentrate.
And, cupcakes.
AND, the world's most kickass dog, named Gunter, who I threatened to dognap if only he wasn't bigger than me. Everyone was like: music, there's music? OH MY GOD LOOK AT THAT DOG. Total thunder-stealer.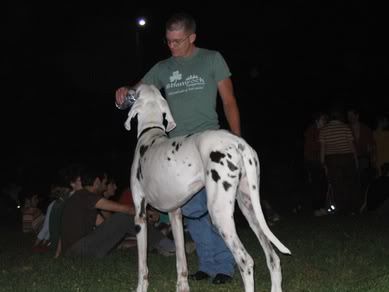 DOG!
Hellfighter