I magically came into possession into Sno-Cone today.

It tasted cold and delectable especially since it was already 310 degrees Kelvin at . What was not delectable was that I still don't have the hand/eye/mouth coordination required to eat Sno-cones.
If my calculations are correct, nearly half of all attempts to eat frozen food stuffs by a child ends with the treat disastrously on the ground. Here are the three most common causes:


An unbalanced and/or overly aggressive lick causes ice cream to spill off cone onto sidewalk.

An uneven attack pattern causes an unbalanced popsicle to spill off stick onto sidewalk.

An uneven and/or overly aggressive squeeze causes Sno-cone to spill out of paper wrapper onto sidewalk.

I'm no Mr. Wizard, but it seems that as a grown up with passing marks in physics and a minor in Oceanography, I would have a grasp on these by now. Unfortunately, with no sidewalk nearby, my Sno-cone spilled mostly on my pants.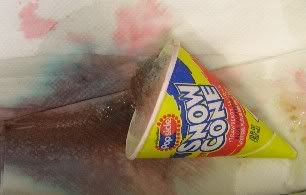 What remains of the day, remains on my pants.

A good bit also fell into my shoes which, out of solidarity with that girls Lacrosse team, were flip-flops. Actually, it was just out of solidarity with young Fallon.
1986? Christ.
Anyblay, it was good while it lasted. Tomorrow, I'm going to tackle one of them Frogger popsicles with bubblegum for eyeballs.