UN.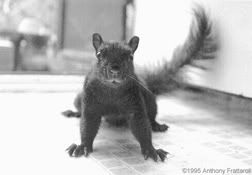 Evolution? Revolution. An exotic, some even say SEXY, Squirrel Revolution.
Just look at that come-hither stare. The WP finds it
exotic.
DEUX.
- Were you on U St last night?
- Did you happen to take a few candid photos while prancing about?
- In said photos, is there a perplexing situation that seems to be perpetratin' in the background, under a faux tiki-ish hut? And by "perplexing", I mean: girls with mad guns?
I'm currently dreaming up rewards for anyone that got a shot of me kicking the spaghetti-armed LJG's ass in arm wrasslin' at Local 16 last night. So check yer digitals, and thank you.
TROIS.
The best description I've heard this morning, in reference to W'burg (Brooklyn): "retard rodeo." Also, who wants to find me a copy of the new Mountain Goats CD? I am penniless.
ETC.
Governess Casablanca's Gossip Fun Fair:
I have it on good authority that SOMEONE had such a wicked Wednesday eve that she's at work this morning (late, natch) dressed like her mom.
Happy Thursday, I hope the Siths didn't revenge on you too much last night, or whatever.