You know what the Orange Line Corridor in Arlington needs? Besides another Irish themed bar called Puffy O'Tooles. It needs more non-descript, overpriced condos. Big ones too, made of pale yellow bricks and green glass windows. And it would be perfect if the insides had generic wafer-thin white walls, oversized glass front doors, black n white photos of flower arrangements and 4 foot plaster roman pillars. And make sure they build a guard desk but they don't need anyone to work it as long as they stack it with all the Pier 1 accents you can handle, bro. Especially those things that looks like upside-down pineapple/pinecones on a pedestal or a bowl filled with
twig balls
.
Ballston and Clarendon need those things.
And it looks like I'll get my wish.
So long, Carpool
.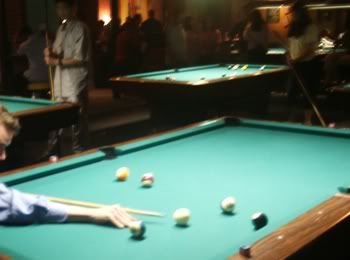 Where does one stand when they announce that one thing you are mildly dissatisfied with is set to be replaced with something you are wildly discontented with? The Carpool is/was a mostly harmless bar, one that you would take an out of town cousin to when you needed to bridge the gap between his local Iowa drinkery and a fake-hip joint like Chi-Cha's.
But it was also the place that grad school friends back from fall break wanted to hit because they heard it was a great place for singles. So you let out a big sigh and agree because he's only in town for one night and he's staying at his parents and he doesn't want to drive into the city and Mount Pleasant is where again? Isn't that where those MS 13 guys are?
Fine, dude. We'll go to Carpool.
It got its name frpm the old Desoto dealership that used to sit at Fairfax Drive and Quincy. You can still see the garage doors and showroom set-up in the architecture. According to the article, the bar will be replaced with condos and "6,341 square feet of ground-floor retail" which means a Starbucks, a Subway, a GNC and a Maggie Moo's.
The Carpool added a little flavor to an ever-growing brutally generic area. It may have tasted like chalk dust and BBQ sauce served in an ashtray, but it was still flavor.