Looks like the G is leaving it to me to do the weekend round-up. She touched on a few things…like dragons…and ninjas…
First off, happy birthday to the D. The big 20-something. And I don't mean that I'm trying to cover up your actual age because I honestly don't know what it is. I do know it's 2½ year younger than me, but since I'm unsure of my own age… And we're not making that joke we did in the beginning where we pretended we were 253 years old and British nobles.
JW threw a great party for her with all sorts of neat characters and too much food and stolen donuts replaced with hamburger buns with holes cut in the middle.
There was a guy there who was more drunk than I have seen someone in a long time. 6pm after Foxfields, sunburned drunk. Let's say he was more loaded than that side dish you can get at KFC that has all their side dishes mixed together, topped with gravy and a 3 cheese blend. So, you know, he was pretty gross.
I used my outside voice too much, especially the time when a nice elderly gardening neighbor only heard my half of the inappropriate conversation.*
There was a youngish party guest who commented on how attractive he though the D's mom was.
There was another guy there with an Oliver Platt t-shirt that would be great for my little baby cousin Oliver.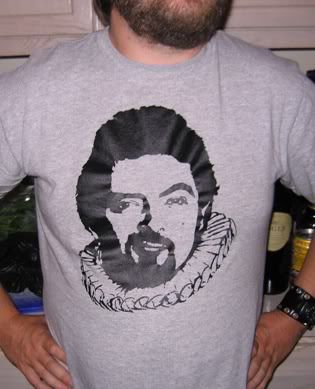 Except that it was actually the Blackadder. But a t-shirt with Oliver Platt wearing a ruff would be pretty boss.
Now for the smoothest transaction in blog history: We almost got killed by a black adder on Sunday. Having decided the best way to address the
Mount Trashmore
our house has become was to go see the
Dragon Boat races
on the Potomac. (We also may have seen a troll on Roosevelt Island.) The Governess was about to sit down on what she thought was some flotsam garbage when it hissed its displeasure.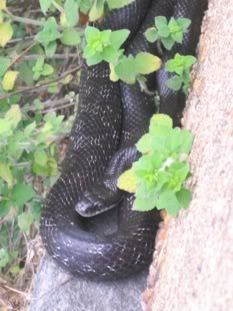 IT WAS A LITLLE BIT FRIGHTENING! HE-YA!
As for the races, I don't know much about dragon boats but I did row crew in JuCo so I'm pretty sure that all your oars need be in the water at the same time to get anywhere. The DC team had a hard time with that little bit of watercrafting and they got beat pretty handily by the team from Ottawa and then smoked by the crew from Taipei. Next year, DC Allstars, don't invite those svelte college kids from
Fu Jen University
and their passionate red Under Armor uniforms.
But all wasn't lost. To reward the masses for standing by in the snake filled grasses we were treated to a martial arts awesomefest.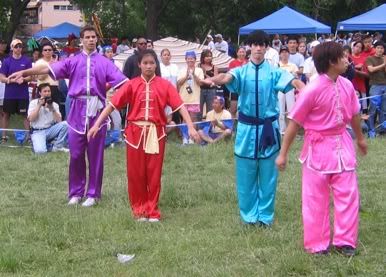 I'm not sure if any of these cats were deploying the
Tongbeiquan
(or
White Ape Fist
) style of fighting or that if the theme to Mortal Combat is a required soundtrack to any public exhibition or if Easter themed silk pajamas are standard fighting uniforms. But I do know that their
Kung Fu
was real strong.
And I also think that this one guy with the Miracle Blade on a Stick was Tom Gugliotta.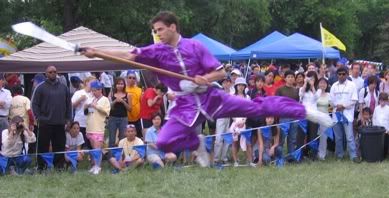 Who knew that
the Googs
still had ties to the area?
*Although outside voice has been haunting me of late, I still feel the last two gaffs were not inappropriate. 1. Standing alone at the mall, examining the latest Gap fashions, I proclaimed "Fuck you, stripy shirts," to no one in particular except that woman and her three children who were walking by. 2. After leaving the Science Bar, I proclaimed "Helllloooo, skanks," through the open windows of Rumors to no one in particular except the skanks who were having drinks.