As an official tuxedoed participant in an upcoming August wedding, I was guilt-ed by the groom into driving to Baltimore last weekend so I could have some grownup face time with the new bride. She's utterly delightful and charming. And to be honest, I'll probably side with her in next Augusts' divorce proceedings. Lose one friend, make another who's a lawyer and a girl. Even Stephen.
B-more is a crazy, mixed-up town where Dale Jr's and Izod's can eat next to each other at a crab shack that sits comfortably between a liquor store and an American Apparel. It's why I simultaneously love and hate the place but most of all I love it. And hate it. And it's farther away than it should be.
We wandered Charm City for a bit, bribed our way to better O's seats, played some GTA, avoided the Joint Strike Fighter destroying 695, drank some beers bigger than our faces and then limped home. But the walking distance between the stadium and our hovel was greatly miscalculated. Plus, our bellies were full of hotdogs and peanuts and cotton candy and our brows were moist with sweat. We began wilting fast.
Thankfully, someone had carefully and heroically constructed a large marquee declaring that their establishment was selling Magic Hat beers for $3. Also, they promised magic.
A couple of free-spirits in Baltimore have rolled the dice and sunk a bunch of their hard scammed three card monte money into
Illusions
, the city's only bar/magic shop. Filled with dark stained woods, heavy drapes and Houdini lore, it attempts to link alcohol with your grandparent's Carter Beats the Devil brand of magic instead of your nephew's I'm a
Huge Asshole
kind.
After a few moments of lingering near the bar, we were asked the establishment's proprietor to please have a seat since things were about to begin. He then locked the doors so no more bachelorette parties could get in. (I don't know if it's because I'm hanging at the right places when I'm in DC but whenever you got to Baltimore you will see a bachlorette party. And if you're a guy with 51% of your teeth, you'll be asked to suck a Lifesaver off some nasty shirt.) The lights went dimmer and then…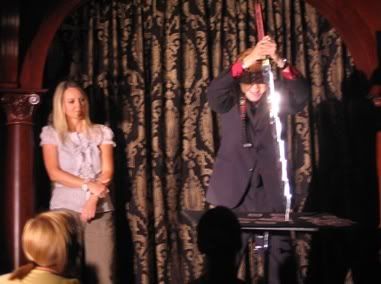 The idea of a magic store/bar almost works. For the price of one $3 Magic Hat, you get two card tricks and a straight-jacket escape routine performed by what I believe is the nation's skinniest magician. He's the son (perhaps co-owner) of the bar and maybe weighs 115 pounds. He wore the Baltimore-required Under Armor skin tight shirt yet it hung off him like that college sweatshirt you wear when you're sick.
While I haven't any clue about how the card tricks were executed, they seemed to be rather basic and were likely taught within the first few weeks of Professor Vexctor's Arithmacy class. Sure, he made cards appear in crazy places (his pants) and used one of those giant impractical swords you can buy at store in the mall that sells travel alarm clocks, Swiss Army knives and giant impractical swords but I still feel like I was watching a free magic show. And even the though the straightjacket routine was performed upside-down, hanging from the ceiling, I think he got out just because he was skinny. Like, if you made me put on
Benny McCrary
pants but cinched the belt real tight I bet I could still get out of them.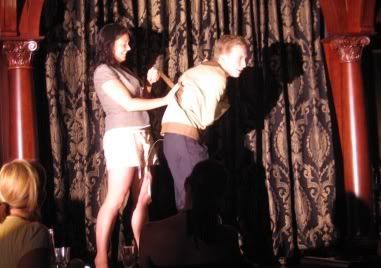 Bottom line: Go to Baltimore and for the price of gas and $3 you can get a beer and a magic show. Whether it's worth will be based on your reaction to shiny things.
*While writing this entry, I accidentally cut and pasted the headline into another serious, non-hooker related document. Some people received it by accident. By "some people", I really mean "everyone."