I heard or read or made up somewhere that NYC has a law that limits the number of construction projects allowed on one way streets that travel in the same direction. It's intended to allow drivers coming in or out of the city during rush hour an opportunity to find a less hindered alternate route.
I'm not sure if DC has a similar law. But if it does it needs to extend past construction projects. Let's say they are tearing down a building on 20th Street and have two lanes blocked off.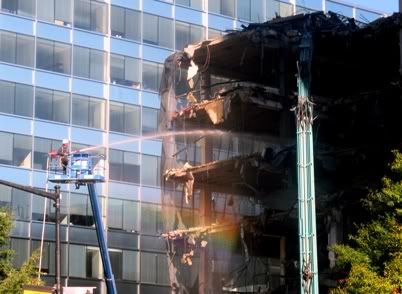 Then Russell Crowe shouldn't be allowed to come in and block off 18th for some bloated, globe spanning
suspense picture
that will dismay your senses with its austere realism and exhaust you with its passion.
On the plus side, I got to watch them tear down that building on 20th for, like, 10 minutes. I'll miss that Zero's subs. But the rainbow was pretty.