Iowa. Seriously. You're perhaps a relatively normal state. But probably not. Exhibit number one: my father.
Exhibit 2-100 are to follow. And I will try to do this in the chronological order in which they happened.
#2
Generally, I'm pro-statue. However, my opposition to artists creating likenesses of children is
well documented
. Child statues are creepy. The proportions are always incorrect, the poses are generally unnatural and anytime the children are interacting with an adult there is always be perverse presentiment about it.
For instance, I once drove 4 hours out my way to visit the only town in American that still sells bottles of the original cane sugar recipe of Dr. Pepper. I got there late and the museum was closed. But the statue out front was on full display.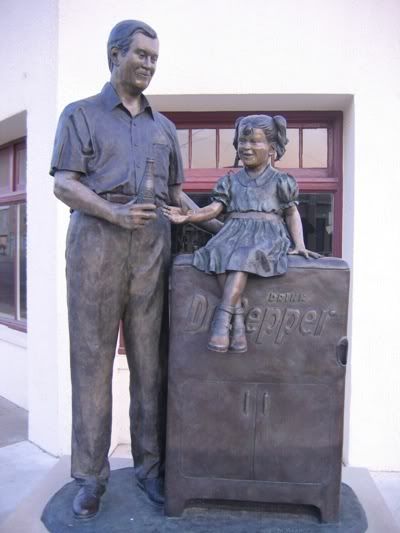 I can't remember who the guy is, maybe the good Dr. Alphonso J. Pepper M.D. himself. Or maybe some other weird Texan. Either way, besides the unquestionably painful height of his pants there is nothing really wrong with him or his statue. The child, however, is terrifying.
It's similar situation with this statue we found in Iowa.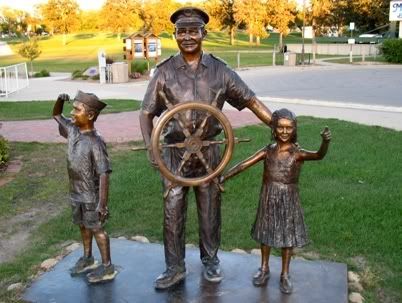 I have no complaints with the captain statute*, even with his Bolton mustache. (Ok, the giant steering wheel belt buckle is bit put-offish.) But that fraking little girl. Sure the first few steps will be awkward when her mystically animated body tries to free itself from the metal base plate. Once she gets going we'll have to lure her into a lava pit just to slow her down.
Maybe it's the hair. Is it hard to render long hair in metal replica form? Artists? Scientists? I don't know and I'm both.
Notice I didn't mention the boy. While I am aggressively anti-child statue I am 100% behind any statue that memorializes chocolate covered ice cream bars on sticks rolled in nuts.
The statue here is a tribute to not only the good Cap'n but to the Nutty Bar, which was reportedly created in this Iowa "resort" town. I am therefore only one-third against the installation as opposed the normal two-thirds.
*In honor of talk like a pirate day:
This boat captain statue walks into a bar and orders a drink. The bartender brings him a beer but asks, "What's the deal with the steering wheel on your pants?"
The captain statue replies, "YAARRGG!! I don't know. But it's driving me nuts!"
OMFG that is funny!