Today's modern, robotic mothers-to-be know that merely juggling two things at once will not get their future kids into Georgetown Day School. (pre-K–8th grade; $22,620-$26,085 per year) Modern multi-taskers require at least three and usually five simultaneous activities if they want to feel productive. That's why I salute the ambitious self-starter who tackled the holiday mall crush at Tyson's and a significant life moment at the same time. Bet she waited until she really, really had to pee.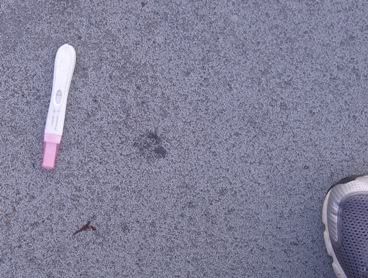 Tysons II - Main Parking Lot – Level One
I'm glad there was only one (negative) pink line because I steadfastly believe pregnant woman shouldn't even be allowed to go to the mall. And not for any selfish or accurate reasons but because there is no way breathing Gappy mall air can be healthy for a fetus. Ladies, while it surely falls well below other proven dangers, I strongly suggest you stay away from the Fashion Center at Pentagon City if you are preggers. Those Great Steak & Potato Company and Panda Express airborne food particles are going directly into your baby's bloodstream.
Here are my unscientific rankings of environmental dangerous facing an unborn baby:
Alcohol
Pharmacy Bar
Polonium-210 ingestion
Falling down stairs
Riding un-oiled carnival Tilt-a-whirl
Having someone swing you around in circles by your arms until you get sick or the baby shoots out
Xenu demanding hourly ultrasound scans
Zombie bites
Seafood
Breathing mall air
Mercury gargling
Laser pointer aimed directly into bellybutton