You may have heard that we had some significant termite damage under our kitchen floor. We've had guys hauling things around our house for three days, tearing stuff up, laying junk down. And let me tell you, it's been a horrible disaster.
By disaster I of course mean that absolutely everything went perfectly fine and there hasn't been anything to blog. The contractors finished when they said they would. There was nothing broken. The dog was fine. The new floor looks great. And because the condo association is responsible for any structural damage, it didn't cost any pieces of eight. Woe is the blogger with major home repairs with nothing to blog. Disgraceful.
My only consternation is that I now wish that the Eddie and JL hadn't moved the fridge and stove back to the kitchen. I kinda liked making my Hot Pockets and Ecto Cooler right there in the dining room.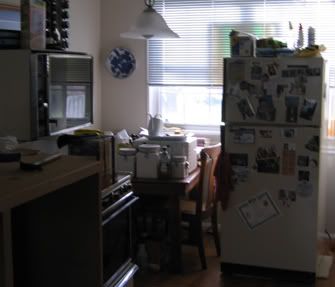 The dishwasher is next to the sofa
The surgery did reveal an interesting piece of information about the houses former homeowners. Between two layers of crappy linoleum tiling under the fridge, Eddie excavated this two-sided scrap from November 25, 1985.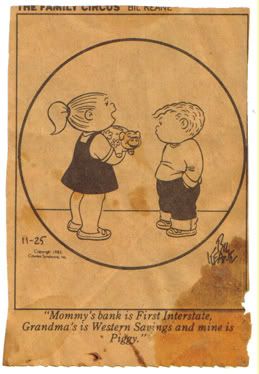 Question is we don't know if John and Jane Alexandria were the acceptable fans of Gary Larson or the dishonorable fans of Bil Keane. Unfortunately, early forensic tests seem to lean toward Dolly and whatever her mute brother's name is.