This
got me thinking about
this
. My hope was that Mr. Dash was just hanging around the ol' Roc-a-Fella offices with his shirt off. But I think 1411 Broadway is in the fashion district so he was probably just getting fitted for a boring new shirt. Avast.
But then I read
this
.
I guess Arthur Kremmer*'s "deal" is that he's the buff Shirtless Drummer* of Stellastarr*.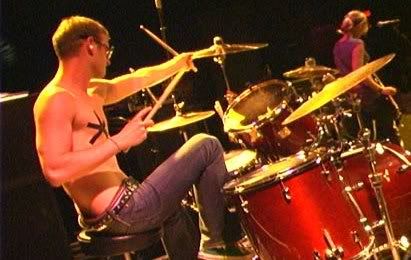 It being October et al and me being childish et al, I got to thinking that going as a shirtless rock drummer for Halloween would be a good idear. I could certainly find a shirt not to wear and I have those old drumsticks that George Clinton's time keeper threw out into the crowd a few years back. However, I feel Kremmer*'s look is too generic. And with my red-braided hair I might get confused for
Obelix
.
So's.... exploring the other greats in the Shirtless Rock n Roll Hall 'o' Fame, I've narrowed it down.
First, Iggy's too obvious and I'm not willing to donate the required amount of blood to maintain the look during a night of Kit-Kat and beer. Secondly, it needs to be someone with a little classic-ness to 'em. So no
Brandon Boyds.
1. Fred-Mer
I've got the mustache left over from my Borat costume and tight white jeans are 10 for a dollar at the Salvation army. But while there are plenty of people who recognize Freddy and Brian May for their genius, there will be enough wankers out there who can't get past the whole homosexual bit. Which, by the way, I have yet to see any proof of.
2. Bon Scott
Is everyone else starring at the same part of this picture as me? Where am I going to get something that big and perfectly formed? Look at that hair. Gorgeous.
Just like this AC/DC lead vocalists, pants aren't made like that anymore. It's the first time I've seen a pair of jeans and understood where that dumb cat whisker fading comes from, the kind that's popular amongst the young kids and their laps. Imagine the shock of the 4 year old girl dressed as Dora da Explora who comes to my house....
There is no way to subtly insinuate this joke without sounding disgustingly perverted. I've written it several different ways and they would all land me in blog prison.
3. Lux Interior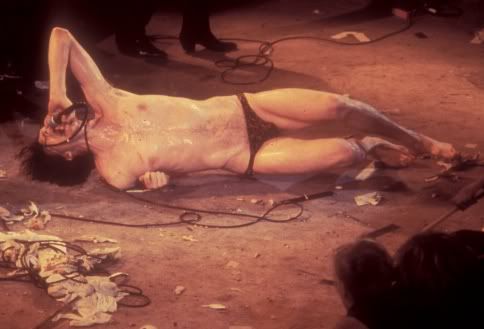 A long time ago, before most of you were born, Lux and the
Cramps
played at a place called the LBJ Club here in DC. The LBJ may have been an ethnic (Korean? it was a while back) restaurant during the day but it doubled as a punk/psychobilly joint once the sun went down. Before the Cramps went on,
Tex Rubinowitz
, from Tex and the Bad Boys, knocked out all the ceiling tiles, as was the fashion at the time. When Lux got on stage, he started pulling down all the electrical wires above his head and causing general mayhem. It was an amazing punk performance, the likes of which DC never sees anymore. I don't know for sure, but it may have been the first and only weekend of music at the LBJ. Many dives just like it quickly came and went in the late 70's and 80's.
A costume of leopard skin briefs would be my tribute to their memory.
4.
Artimus Pyle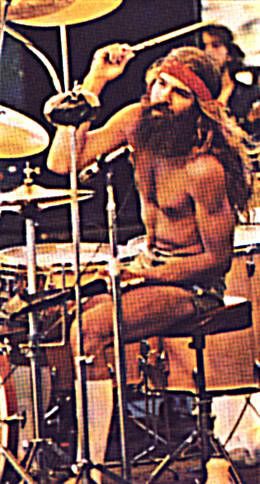 We have a winner.
Pyle was considered the craziest of the crazies in Lynyrd Skynyrd. That's enough for me. But just look at that outfit, all things I already own. Headband, check. Knee-high white socks, check. Jeans cut off so high that the white pockets hang out, check. I got the Halloween party Evite today. My soccer team's not going to know what hit 'em.