A good thing and bad thing happened on the Metro today. The bad happened when I lost my umbrella and got drenched. The good happened when I saw a man in a tri-cornered cap, also drenched, on his way to protest the underhanded way in which the British East India Company attempted to circumvent the importation of black market Dutch tea and the tax that resulted from the trade. Or so I gathered from his incoherent rambling.
Best of all, though, was the realization that as I hustled through Union Station to catch the Metro was that I had magically stumbled into the
US Monopoly Championship!
Behold! Weirdos!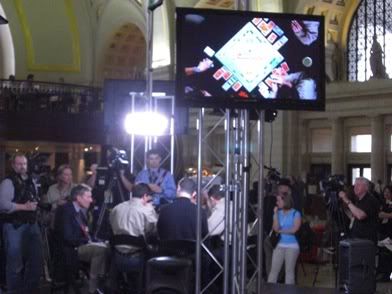 I paused for a few seconds to take a picture or two before I realized that watching other people playing Monopoly is as boring as you'd imagine. But it did settle an important argument.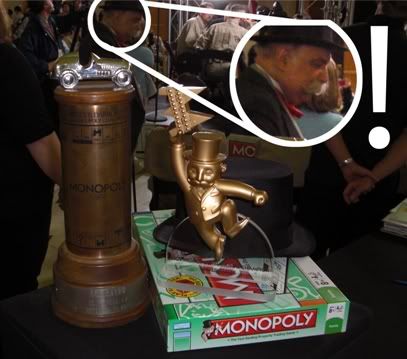 There are three incredible things in the above picture. First, EEEEEP! It's the real life Monopoly Man with mustache and monocle! Monocle! Second, on the right, is the 2009 Championship trophy featuring. It's pretty boring, you ask me. Real Baltic Avenue. But on the right is the original trophy for the first Monopoly Championship. It's got heft. It's got the Monopoly board etched into it. And most importantly, it's got the race car on top.
And we all know race car = bad ass.