If you're a movie maker filming in DC and want a seedy looking backdrop but don't want to make you studio-insured actors travel to a part of the city with a NE, SW or SE in its address, you could do worse than sending them to where K Street dead ends under the Whitehurst freeway. It's dingy, there's graffiti about and the road kind of peters out under Key Bridge and turns into the
Capital Crescent Trail
. If you throw some crate palates around and maybe a shopping cart or two you've got yourself a hobo's paradise right there in lowest Georgetown.
I know that
No Way Out
was filmed there. As was an episode of
Scarecrow and Mrs King
, for all you old-timers. Several others, too, which I'll have to look up.
True Lies
, maybe? The filming equipment for the
stupid boat explosion
was staged there since it's also the parking lot for the Potomac Boat Club. It's practically the
Vasquez Rock
formation of the East Coast.
And then there's the trailer for
State of Play
. It looks like the whole movie was shot there.
Murder! Intrigue! Parking Garage! Looks like that poor girl got killed in a pretty scary part of DC. Except it's ten feet from a rowing club that has a 3 year waiting list and requires a $50 deposit to apply. Also, you're in Georgetown, during the day and Booeymongers is catering. (To save money, the movie makers even flipped the shot for the night scenes so you can't tell there are million dollar townhouses just off frame.)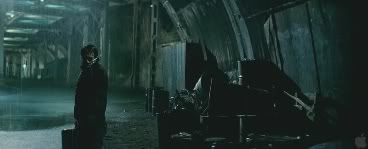 Clearly the message to visitors is don't come to Washington unless you want to get executed is some alley-looking place. You know, we were once the murder capital of the world until we outsourced our killings to Baltimore and Richmond. All we need to reclaim the top spot is more dead tourists. Like you.
But this post isn't about DC movie set locations.
The post is about this.
That's obviously Reindeer Games on the right. But th eguy on the left is none other than the former voice of the Washington Redskins Frank Herzog.
IMDB
says he played a judge in one of those teen dancing movies and "Frank" in
National Treasure 2: Watch Us Ruin Dan Brown's Newest Book
. It looks like he's developing a nice little film career in the days since he was unjustly kicked out of the radio booth. For all those casting directors out there, Frank is especially effective as "generic person of authority." Or in this case, "Larry Craig."
Just saying. Dude looks like Larry Craig.