Distressing news has been filling my in-box for the past two days. Our two starting flag football offensive linemen have dropped out for the season because they are giant babies. Actually, that's not true but it's what I will call them to their faces. The real reason they dropped out is because they are giant fatties.
That is 100% true. But it's the reason they are offensive lineman. It's harder for punk-assed GW frat guys to run around these two fatties and sack our quarterback than it is to run around me with my bad knee and soft, excellent hands. However, being that big means your body isn't always going to do what you want. Especially if what you want is to not blow out your Achilles and go to the emergency room and end up bankrupt because you don't have insurance.
I don't want to stray into the health care debate because I don't understand things like that and stuff. But the real reason our two linemen have dropped out because they have no insurance and don't want to risk injury in our full contact, no pads league. Unfortunately, it's a legitimate concern and it puts our ability to repeat as divisional champions at risk.
So I'm starting a movement.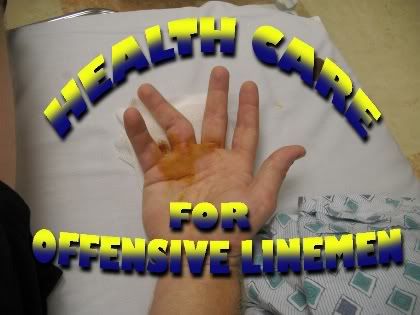 We need Congress to draft bipartisan legislation that will guarantee out nation's offensive lineman health insurance. Actually, scratch that. We only need wording that pledges coverage for sports related injuries. Treatments for pig flu or monkey pox or whatever that one was you got from eating civets in China are not covered. Nor is anything that would assist in losing weight or encourage healthier eating. The only things to be covered are medical treatments in the emergency room, ice, pain and anti-inflammatory medication, crutches and maybe a soft pillow to prop your leg on to prevent swelling.
So call your Senators and Congresspeoples today. Tell them that only they can save my flag football season. Unless, of course, you live in the District because you don't have representation and are a giant sucker. And have fun getting your bike stolen for the third time and riding the metro, you train-loving hump.