Would you, dear reader, believe that there was once a Mexican restaurant in Arlington called El Sombrero that delivered orders of chips and salsa in a sombrero? Silly, but believable, right? How about if the chips were scattered around the brim and the salsa bowl was nestled into the top? Okay, sure. But what if I told you the entire appetizer arrived at your table on the head of a midget?
No one ever believes me.
Obviously, the final aspect of that story is the one that most often gives people pause. It's also a FACT that only my immediate family is willing to recognize. As a child, my sister, parents and I were all served chips and salsa in a sombrero by a midget. Does a photograph or a film or any other piece of evidence corroborate this memory? Unfortunately not. But I doubt all four of us are suffering from a strange and acute delirium that would cause us to recall this event in the exact same manner. It happened. It is fact.
The closest thing I can find as proof is a paragraph out a 1977 Washington Post restaurant review.
The restaurant, which has been at Lee Highway and N. Harrison St. in Arlington for eight years, is spacious and hospitable. The decor is rather plush - thick carpets, Mexican art work and huge Mexican hats.
Note the reference to the "
huge Mexican hats
." May I argue that they were actually regular Mexican hats but were distorted because they were worn by tiny Mexican people? I may.
Of course, by the time I had dinner at this restaurant it was no longer called El Sombrero. In 1982 it was going by the name of Miguel's Mexican Restaurant. It was pretty much the same place just a different name. But that too lasted only a few years.
I say "of course" because the building that housed both Miguel's and Sombrero is that one building in every town that can never hold a business for more than a few months. It's snake bit. It can be at a great location (which this one was) and sell a great product (which this one never really did) but it will never last. In my memory, it's been five different restaurants, a movie rental store and most recently a business that sold used baby clothes, for some reason. It's also the building that the hillbillies set their fireworks trailer up in front of every June 25 – July 5th.
It could be haunted. It could be cursed. It could have once been a skating rink where 12 sexy teens were murdered 100 years ago. On this very night. Bottom line, the term FAIL was designed for 5401 Lee Hwy, Arlington, VA.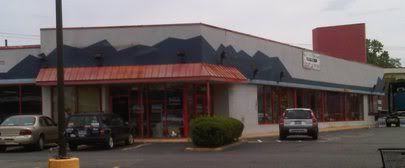 With this history in mind, when T&D wanted to build a new bank in the area they decided to tear down a perfectly good gas station across the street instead of moving into this vexed structure. So for a few weeks, the once-Hollywood Video was nothing more than a staging ground for heavy earth movers.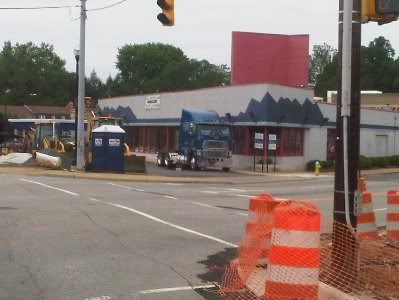 And that's why I failed to notice there was a new tenant.
I can't tell you who's going to win the primary to be Virginia's Democratic candidate for Governor on June 9. But I can tell you that Brian Moran is going to lose. And it's not because he's raised the least amount of money of any of candidates. Or that his brother is Jim Moran. Or that the Post has endorsed Creigh Deeds. Or that Terry Mcauliffe wields the power of
heterochromia
.
It's because the Brian Moran campaign has moved into the most foredoomed building in all of Arlington. And it doesn't help that his campaign workers spend their entire day with giant wall murals of
Batman Forever
Two-Faced Tommy Lee Jones and a Riddling Jim Carrey grinning down on them all day long. It seems that when you're last in fund raising, you can't afford to paint the walls of the former Hollywood Video you now work out of. Having decade old movie murals as decorations also speaks to why Hollywood Video is no longer in business.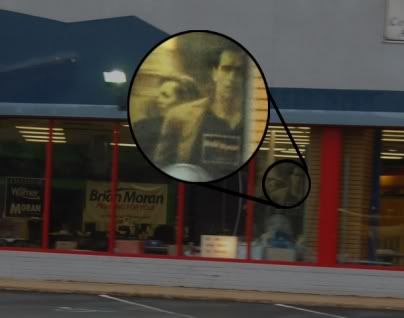 See, you can even make out an
Eraser
-era Arnold actively endorsing Brian Moran for Governor.
Like any sporting event I don't have a vested interest in, I was just hoping that this race was going to be a good, clean game. That's not going to happen now. I hope the Vegas oddsmakers have taken this self inflicted handicap into account.