(Usually, when I ask someone if they've seen an article in from the Post they ask to be sent the URL address. A "hyperlink" if you will. This makes me curse because I'm 900 years old and still read the analogue newspaper. Plus, the Post's search page has been complete rubbish as of late and I couldn't even find the page if I wanted to. It will tell that your query has resulted in X number of hits but it won't show what they are. It's pretty worthless. It's also why this post is almost two weeks old.)
The paper's Kid's Post section often pits their intended readers with the parents of those readers. That leaves me somewhere in the middle, since I don't play Lego based video games and my 401k is doing pretty well considering I'm too young to really have that much money in it, anyways. The article form December 10th was no different.
In it, the authors attempt to mediate the daily car-trip argument between the front and back seats about what to listen to on the radio. This came as a surprise for I assumed that today's child travled with entertainment systems built into the back of their parent's seats and heads. But this article was aimed at those poor hobo children who are forced to listen to cassettes of Alabama's greatest hits. Like me. Also, who the fuck is Paramore?
Check out the crappy picture I had to take because the Post is garbage and doesn't put their most obviously internet friendly section online.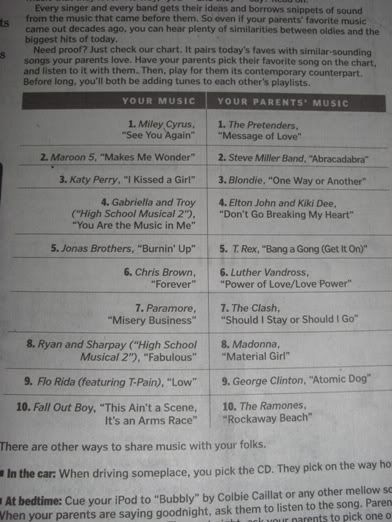 See. A good
Kids Post
section would have links to the songs. Hell, a good Kids Post section would even have the article online.
Before I heard any of these new songs, I would have assumed this whole list was blasphemous. But I listened to the Miley song. You know what? It does a little sound like "Message of Love." A little. We can give it a pass. And I can accept the idea that crappy old Maroon 5 is a younger generation's version of crappy old Steve Miller from my babysitter's generation. But then my senses returned.
Actually…
You probably know what I'm trying to say here better than I can ever say it.
Outside a few similar chord progressions, all the comparisons are terribly off base. And other than Steve Miller, the older bands aren't the mainstream pop of Wham or Toto or the like. The Pretenders, the Clash, Blondie and the Ramones all broke new ground. And T. Rex just plain rocked. The fact that something like this couldn't even exist if it were trying to compare the grown-up's music with their parent's favorite tunes just shows how many RPMs recording industry has wasted spinning its wheels over the last 30 years.
*full disclosure - the g's favorite band and song is Steve Miller's Abracadabra. Also, I kinda sorta like Fall Out Boy.